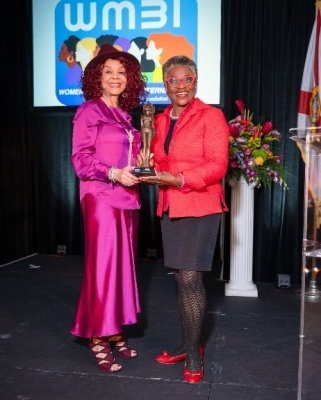 (BPRW) The 12th Annual Women Mean Business International Conference honored Trailblazing Women
(Black PR Wire) Miami – In honor of Women's History Month, M. Gill & Associates, Inc. and, M. Gill HER Foundation in collaboration with the Florida MBDA Export Center and the Miami MBDA Business Center, operated by M. Gill & Associates, held the 12th Annual Women Mean Business International (WMBI) Conference in the Kovens Center's Grand Ballroom at Florida International University on March 25, 2022.  It was one of the  largest and most successful annual celebration of Women in Florida.
More than 250 businesswomen attended in-person and another 400  virtually enjoyed this hybrid event that featured an A-List of guests, including representatives of the consulates from the Caribbean and other regions.
With a unique blend of world-class speakers, exhibitors, a renowned fashion designer, and the Trailblazing Women Awards, the WMBI Conference delivered numerous opportunities to gain useful business insights, to connect and network. The two emcees of the event were Sophia Nicholson,  television host, owner and CEO of Bandan Inc., and Desmond Alufohai, the Director of Protocol & International Affairs Division of the Miami-Dade Aviation Department, a strategic partner with M. Gill & Associates..
Under the Theme: "Unleashing HER Power Worldwide," the Conference started with an insightful session from Global Businesswomen. The presenters included Clara Diaz-Leal, BankUnited, Miami;  Alika Kumar, Phoenix MBDA Business Center, Arizona; Angela Washington, National MBDA; Yamilee Bastien, U.S. Foreign Commercial Service, Miami;  Nancy G. Allen, Women's Business Enterprise Council (WBEC), Miami; and Bernadette Morris, President and CEO of Sonshine Communications, as the moderator of the Business Roundtable.. The power women addressed topics such as Small Business Financing, Global Trade, Federal Contracting, the Infrastructure Deal, and Effective Negotiating Skills
"We couldn't be more thrilled to have these successful and powerful women sharing their diverse skills, knowledge, and success stories with us," said Marie R. Gill, Founder & CEO of M. Gill & Associates and the M. Gill HER Foundation. . "I am thankful for the growth of WMBI over the years and the opportunity it presents to broaden our efforts to empower women and showcase all the resources available for women-owned businesses."
The speaker's session was followed by the Awards Power Lunch that featured a Fashion Show sponsored by M. Gill & Associates and M. Gill Her Foundation, in partnership with Women Grow Strong.  The Fashion Show, a major highlight of the event,  featured the latest spring designs from fashion designer Tanya Marie.
"The purpose of these designs is to showcase the beauty of women of different nationalities, shapes and sizes. We are promoting diversity, inclusivity and confidence," said Tanya Marie, CEO of Tanya Marie Design. "I am glad to present my latest collection during the WMBI Conference."
A highlight of every WMBI Conference is the Trailblazing Women Awards amd the publication of the Bullish On Minority Businesswomen (B.O.M.B.) Magazine.  This year's ceremony was not without surprises!  When Commissioner  Daniela Jean received her Award, she announced the proclamation of March 25, 2022, as Marie Gill's Day in the city of North Miami Beach.
"Being here receiving this award comes full circle," the Commissioner told the conference attendees. "For years I've been attending these conferences, what I have learned is immeasurable, and what Ms. Gill does in promotion of women and minority-owned business is fascinating."
Trailblazing Women 2022 Honorees:
Bea L. Hines (Contributing Correspondent- First Black Female Reporter Miami Herald Newspaper)
Trailblazing Lifetime Achiever Award Honoree
Ann McNeill (Founder-Chair of the National Association of Black Women in Construction (NABWIC)
Trailblazing Women 2022 Honoree
Hon. Daniela Jean (City Commissioner -City of North Miami Beach)
Trailblazing Women 2022 Honoree
Other conference highlights include:
Soft-launch of the Florida MBDA Export Academy, an online training platform for businesses to gain access to the knowledge and skills necessary to start and grow an export business, powered by the Florida MBDA Export Center.
Gill & Associates, Inc. presented the Spring 2022 edition of the Bullish on Minority Bu$ine$$women (B.O.M.B) Magazine.
The event concluded with the B2B Matchmaker Meetings with WMBI 2022 Exhibitors.
About M. Gill & Associates, Inc. & the M. Gill Her Foundation
Gill & Associates, Inc. was founded by Jamaican entrepreneur Marie R. Gill 32 years ago. Based in Miami, the company operates the Florida MBDA Export Center – the Miami MBDA Business Center and is an MBDA Coronavirus Response & Relief Grantee that is helping in the COVID-19 Recovery process for small and minority firms throughout Florida. The City of Miami is cost-share strategic partner, providing space to house the MBDA programs, and funding is provided by the Minority Business Development Agency (MBDA) of the U.S. Department of Commerce. All MBDA-funded programs provide technical 
assistance, managerial coaching, training, and export development services, free of cost to assist minority businesses to build scale and capacity, increase revenues and investments, create and retain jobs, and expand into new and global markets.
The M. Gill Her Foundation is a nonprofit organization that was launched by Marie Gill to raise funds that would be used to provide financial support, training and mentoring to struggling businesswomen and minority students of color. It's primary initiative, the Women Mean Business (WMBI) Conference, is designed to focus on women worldwide, to create opportunities for empowerment and growth, and to showcase trailblazing women's achievements in uplifting women worldwide, and the contributions they make to their respective economies.
For more information on M. Gill & Associates, its MBDA Programs, and the M. Gill Her Foundation  please contact 305-576-7888; email marie@mgillonline.com or visit www.mgillonline.com or www.mbdaexport.com or www.wmbi.biz
The content and opinions expressed within this press release are those of the author(s) and/or represented companies, and are not necessarily shared by Black PR Wire. The author(s) and/or represented companies are solely responsible for the facts and the accuracy of the content of this Press release. Black PR Wire reserves the right to reject a press release if, in the view of Black PR Wire, the content of the release is unsuitable for distribution.