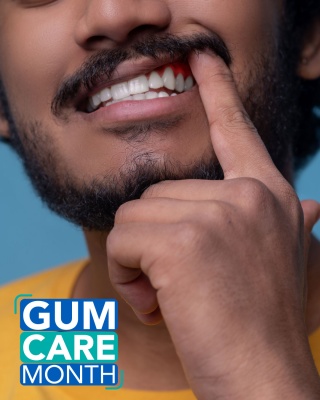 (BPRW) Phanord & Associates P.A. and partner agencies observe National Gum Care Month
Phanord & Associates P.A. and partner agencies observe National Gum Care Month
(Black PR Wire) Miami, FL – September is National Gum Care Month. Phanord & Associates, P.A., Sabal Palm Dental, P.A. and Caring Dental Services support this special observance to share the importance of gum health and disease prevention.
The gums or gingiva are the soft tissue that surrounds the teeth and the bones of the jaw. When the gums are not taken care of properly, they no longer help the teeth, putting them at risk. The inflammation or infection of the gums results in periodontal disease. Its early stage is called gingivitis, and the gums can become red and swollen. In a more severe form, the periodontal disease  is called periodontitis. In this stage, the bone may be lost, the gums may pull away from the tooth, and the teeth may become loose or even fall off. According to the Centers for Disease Control and Prevention, 47.2% of adults aged 30 years and older have some form of periodontal disease.
"When patients notice redness or swelling around the gums, they should book a dental appointment immediately," said Dr. Kevin Phanord. "Time is crucial; gingivitis can be reversed while periodontitis cannot." "The good news is that both are preventable with proper oral hygiene," added  Dr. Kyle Phanord.
Drs. Phanord shared some tips to keep gums healthy. 
Brush and floss every day to remove the bacteria that cause gum disease.
Floss at least once a day
Replace worn-out toothbrushes at least every three months.
Visit us twice a year for regular checkups and cleanings.
To schedule a dental exam, please call: Phanord & Associates, P.A. at  (305) 685-7863 or Sabal Palm Dental Associates P.A. at (305) 758-0815 or Caring Dental Services at Little Havana  (305) 325-1771 or Sunrise (954) 741-5006. 
About Phanord & Associates , P. A.
Phanord & Associates, P.A. is a leading Black-owned family dental practice that has been serving the community for over 30 years. The leading dental practitioner, Dr. Roger Phanord, is a doctoral graduate of the University of Florida College of Dentistry. Phanord & Associates opened in June 1988 and recently expanded their practice by opening Sabal Palm Dental Associates, P.A. in the Little Haiti community. Sabal Palm is now Phanord & Associates' sister company and a welcome addition to the dental community, as the Phanord family provides quality oral care at both dental practices.
Phanord & Associates, P.A. and Sabal Palm Dental Associates, P.A. are dedicated to serving patients in a caring and clean environment that allows them to feel safe and secure while receiving the best dental care. All services are provided using new technology, including 3-D X-Rays, digital scans and 3-D printers! Policies are in place to ensure that patients are safe in every case. In the age of COVID-19, equipment is sanitized before, during and after each visit. Both practices welcome all patients from different backgrounds, and their staff speaks several languages, including Spanish, Creole, and French. Both offices strive to meet and exceed their patients' dental needs by offering general & cosmetic dentistry, pediatric dentistry, and oral and maxillofacial surgery. If one thing is certain, patients will have something to smile about when they leave Phanord & Associates, P.A. and Sabal Palm Dental Associates, P.A.
Phanord & Associates, P.A. is located at 1245 NW 119th Street in North Miami, Florida. Opening hours are Monday and Wednesday from 9 a.m. – 6 p.m.; Tuesday and Thursday from 9 a.m. – 4 p.m. and Friday from 8 a.m. – 1 p.m. Sabal Palm Dental Associates, P.A. is located at 5337 NE Second Avenue in Miami, Florida. To make an appointment, call 305-685-7863 or 305-758-0815. Visit us online https://www.phanord.com.
#    #    #
The content and opinions expressed within this press release are those of the author(s) and/or represented companies, and are not necessarily shared by Black PR Wire. The author(s) and/or represented companies are solely responsible for the facts and the accuracy of the content of this Press release. Black PR Wire reserves the right to reject a press release if, in the view of Black PR Wire, the content of the release is unsuitable for distribution.