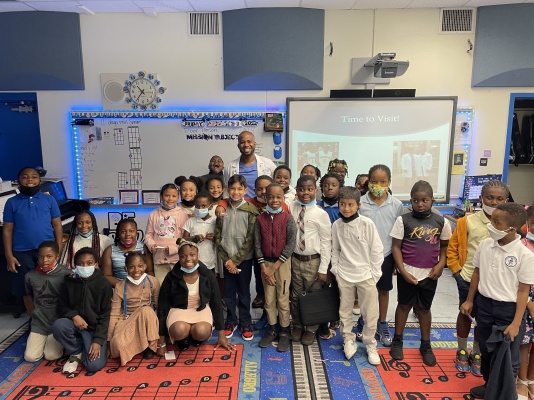 (BPRW) Never Too Early to Explore a Dentist Career!
Dr. Kyle Phanord from Sabal Palm Dental Associates, P.A attended Career Day at Fulford Elementary School
(Black PR Wire) MIAMI, Fla. – It is never too early to explore a dentist career! With this in mind, Dr. Kyle Phanord attended career day on May 25, at Fulford Elementary School in North Miami Beach. During the career day, the students learned about how Dentists are responsible for creating long-lasting, healthy and beautiful smiles. For Dr. Kyle, who, together with Dr. Kevin Phanord, make up the Dentist Duo, career day is an opportunity to give kids a closer glimpse into dentistry and encourage them to become future leaders.
"We love the opportunity to teach kids the importance of dental health and oral hygiene and hopefully plant the seed so that they can pursue a career in dentistry in the future. It's never too early to start building career awareness," said Dr. Kyle. "I have a great time teaching the kids what we do. We want kids to learn the importance of a healthy smile at an early age. Hopefully, Career Day inspired these kids to become the future dentists that will serve the community."
Sabal Palm Dental Associates, P.A. is led by Dr. Roger Phanord and his twin sons, Kevin and Kyle Phanord. The goal of the practice is to provide the community with the best possible dental care in a friendly, affordable, comfortable, professional and luxe atmosphere. Services offered by Sabal Palm Dental Associates, P.A. include diagnostic & preventive services, periodontics services, prosthodontics services, cosmetic procedure services, restorative dentistry services, oral surgery services, oral maxillofacial surgery services, endodontics services, pediatric dentistry services and emergency care services.
Sabal Palm Dental Associates, P.A. is a sister company of Phanord & Associates, P.A. It is dedicated to serving patients in a caring, clean and luxe environment that allows them to feel safe and secure while receiving the best dental care. All services are provided using new technology, including 3-D X-Rays, digital scans and 3-D printers! Policies are in place to ensure that patients are safe in every case. In the age of COVID-19, equipment is sanitized before, during and after each visit. To make an appointment, call 305-685-7863. For more information on Sabal Palm Dental Associates, P.A., visit www.sabalpalmdental.com.
The content and opinions expressed within this press release are those of the author(s) and/or represented companies, and are not necessarily shared by Black PR Wire. The author(s) and/or represented companies are solely responsible for the facts and the accuracy of the content of this Press release. Black PR Wire reserves the right to reject a press release if, in the view of Black PR Wire, the content of the release is unsuitable for distribution.