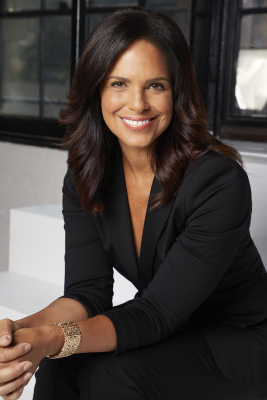 (BPRW) MATTER OF FACT LISTENING TOUR CONCLUDES WITH JUNETEENTH FINALE ACROSS HEARST DIGITAL AND TV OUTLETS
"Trailblazers, Troublemakers & Dreams," the Fourth and Final Stop on Two-Year Tour, Bows Wednesday, June 8 at 7:00 PM ET on Hearst Magazines, Newspapers and Television Stations Digital Sites with Broadcast to Follow on A&E, Hearst Television Stations. Host Soledad O'Brien Engages Provocative Guests from Academia, Business, Entertainment, Politics, Sports in Conversations About Race and Justice
(Black PR Wire) NEW YORK, NY – A Parkland shooting survivor, the first WNBA player to own a team, the president of one of the e-commerce era's greatest successes, a Tony Award-winning actor, history's most decorated American gymnast, and one of America's most popular comedians …
All will be guests for "Trailblazers, Troublemakers & Dreams," the 90-minute final "stop" on the "Matter of Fact Listening Tour" hosted by Soledad O'Brien, which concludes this month, coinciding with the Juneteenth federal holiday. The show will stream beginning at 7:00 PM ET, with a pre-show beginning at 6:45 PM, on Wednesday, June 8, on matteroffact.tv; as well as Hearst Television's Very Local streaming app and on Hearst digital platforms including ELLE, Esquire, the Houston Chronicle and the San Francisco Chronicle.  An edited 60-minute version will air on Hearst Television stations around the country beginning Friday, June 17 and running through the month. The show will air on the A&E Network on June 19 at noon Eastern, with encore daytime showings on the FYI Network on June 20, 23 and 25.
"Part of the purpose of the Tour was to offer new perspectives on very fundamental problems and to challenge how we address those problems," said Emerson Coleman, Hearst Television senior vice president, programming, and executive in charge of production for Matter of Fact with Soledad O'Brien.  "Our goal was to identify and elevate stories that are often overlooked and to introduce exceptional people who have been undaunted in their pursuit of justice and equality." 
Guests appearing on "Trailblazers, Troublemakers & Dreams" include: 
Poet and author Elizabeth Acevedo;
Simone Biles, the most decorated American gymnast of all time;
Tawney Brunsch, executive director of Lakota Funds, the first-ever reservation-based Native community development financial institution;
Me Too movement founder Tarana Burke;
Comedian Margaret Cho;
Parkland, Florida, shooting survivor Emma (aka "X") Gonzalez;
Tribal attorney Tara Houska;
Actor Daniel Dae Kim;
Renee Montgomery, the first WNBA player to ascend to team management and ownership;
Actor, singer and author Billy Porter;
Music composer Andrea Ramsey;
Linda Sarsour, activist, Women's March co-host and former executive director of the Arab American Association of New York;
Paypal President Dan Schulman;
Nashlie Sephus, an entrepreneur in machine learning and algorithmic bias identification;
The members of the dance band The Slants;
Bryan Stevenson, professor at New York University School of Law and founder and executive director of the Equal Justice Initiative; and
Yohuru R. Williams, distinguished university chair, professor of history and founding director of the Racial Justice Initiative at the University of St. Thomas
"Trailblazers, Troublemakers & Dreams," which also includes feature stories on the late Rep. John Lewis and the late Pittsburgh Pirates star player Roberto Clemente, follows "Promises of Change" and "To Be An American: Identity, Race And Justice."  The tour debuted October 2020 with "The Hard Truth About Bias: Images and Reality." The initial three episodes continue to stream at matteroffact.tv.
During the tour O'Brien has hosted dozens of guests including author and University of Washington Ph.D. Robin DiAngelo; Princeton University Ph.D. Eddie Glaude; Pulitzer Prize-winning New York Times reporter and creator of the 1619 Project Nikole Hannah-Jones; sportscaster Jemele Hill; author and host of Latino USA Maria Hinojosa; acclaimed filmmaker Shaka King; award-winning composer, musician, and singer John Legend; Executive Director at the Center for Native American Youth, Nikki Pitre; social entrepreneur and author Wes Moore; Associate Justice of The Supreme Court Sonia Sotomayor;  and Boston Mayor Michelle Wu.
University of Maryland Professor and Brookings Institution Fellow Dr. Rashawn Ray, a guest on the inaugural episode, called it "the best show that I have been on that addresses #racism"; another guest, Mahzarin Banaji, professor of social ethics in the Department of Psychology at Harvard University who is renowned for her work in the area of implicit bias, announced she would add the "Matter of Fact Listening Tour" to her university curriculum. 
"Our Matter of Fact Listening Tour production team is really inspired by and grateful for the chance to share with viewers the stories of well-known and little-known trailblazers and troublemakers who have courageously taken a stand for justice — even in the face of overwhelming obstacles," said Rita Aleman, executive producer of Matter of Fact with Soledad O'Brien.
"I've been moved by the personal stories our guests are sharing — and the reflections they have on the people and ideas that formed their activism, the risks they've taken to publicly confront injustice, and their hope for continued progress.  It's one of the most inspiring shows we've done," O'Brien said.
"This important initiative was launched as a direct response to the social and racial injustice events of the summer of 2020, as our team, led by Emerson Coleman, sought to highlight the issues surrounding racial injustice and social inequity, their history and, most importantly, their future — and how these can be shaped for the better by amazing individuals who are making a difference," said Hearst Television President Jordan Wertlieb. "I am extremely proud and grateful to our team for their tremendous work on this impactful programming. While the 'tour' is concluding, the commitment to highlight America's issues and influencers will continue across the Hearst Television footprint through the weekly Matter of Fact program and the exceptional reporting and storytelling of our local stations."
The "Matter of Fact Listening Tour" is a special project from the award-winning Matter of Fact with Soledad O'Brien, the nation's most-watched syndicated public affairs program.  Now in its seventh successful season and the recipient of four 2022 Gold Telly Awards, Matter of Fact with Soledad O'Brien is produced by Hearst Media Production Group. The October 2020 debut of the "Matter of Fact Listening Tour" launched a series of forums employing the digital platforms of many of Hearst's consumer media brands, including 33 television stations; newspapers around the country; and many of the world's most popular magazines — and Matter of Fact's website, YouTube and Facebook Live channels.
About Hearst
Hearst is a leading global, diversified information, services and media company with operations in 40 countries. Its major interests include global financial services leader Fitch Group; Hearst Health, a group of medical information and services businesses; Hearst Transportation, which includes CAMP Systems International, a major provider of software-as-a-service solutions for managing maintenance of jets and helicopters; ownership in cable television networks such as A&E, HISTORY, Lifetime and ESPN; 33 television stations; 24 daily and 52 weekly newspapers; digital services businesses; and nearly 250 magazines around the world. Follow us on Twitter @Hearst. To learn more about Hearst, visit hearst.com.
About Hearst Television
Hearst Television owns and operates 33 television and two radio stations serving 26 media markets across 39 states reaching over 22 million U.S. television households. Through its partnership with nearly all major networks, Hearst Television distributes national content over nearly 70 video channels including programming from ABC, NBC, CBS, CW, MY Net, MeTV, Estrella and more. The radio stations are leaders in Baltimore news/talk and rock music listenership. Its Hearst Media Production Group unit produces original programming across linear and streaming platforms for domestic and international distribution.  Its Very Local app, free to download on household OTT devices and available across popular streaming services, offers 24/7 access to local news, weather and an array of local and regional programming.  Hearst Television is recognized as one of the industry's premier companies and has been honored with numerous awards for distinguished journalism, industry innovation, and community service. Hearst Television is a wholly owned subsidiary of Hearst.
About Soledad O'Brien
Soledad O'Brien is an award-winning documentarian, journalist, speaker, author and philanthropist, who founded Soledad O'Brien Productions, a multiplatform media production company dedicated to telling empowering and authentic stories on a range of social issues. She anchors and produces the Hearst TV political magazine program Matter of Fact with Soledad O'Brien and is a correspondent for HBO Real Sports. She is also host of the Quake Media podcast "Very Opinionated with Soledad O'Brien."  She is a thought leader, with over 1.3 million Twitter followers, who has a national impact through her speeches, numerous documentaries and her presence on the op-ed pages of platforms like The New York Times and HuffPost. She has anchored shows on CNN, MSNBC and NBC and reported for Fox, A&E, Oxygen, Nat Geo, the PBS NewsHour, WebMD and Al Jazeera America, among others. O'Brien's work has been recognized with three Emmy awards, twice with the George Foster Peabody Award, three times with the Gracie Award, which honors women in media, twice with Cine Awards for her work in documentary films and also with an Alfred I. DuPont Award.
***
The content and opinions expressed within this press release are those of the author(s) and/or represented companies, and are not necessarily shared by Black PR Wire. The author(s) and/or represented companies are solely responsible for the facts and the accuracy of the content of this Press release. Black PR Wire reserves the right to reject a press release if, in the view of Black PR Wire, the content of the release is unsuitable for distribution.