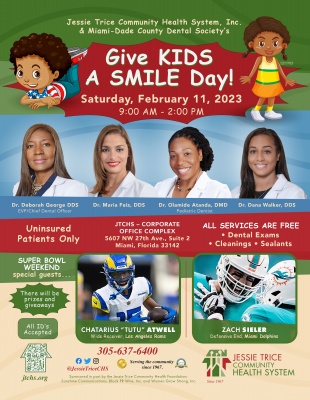 (BPRW) Jessie Trice Community Health System to host their free "Give Kids A Smile Day" with Guest Appearances by NFL Players Chatarius "Tutu" Atwell and Zach Sieler
FREE Dental Services for Uninsured Patients Only; Event is Sat., Feb. 11 from 9 AM – 2 PM at the JTCHS Corporate Office; NFL Players will be on site for a limited time
(Black PR Wire) Miami, Fla. – Every child deserves the opportunity to receive oral care and a healthy smile! February is National Children's Dental Health Month. Jessie Trice Community Health System (JTCHS) and their partners will host the "GIVE KIDS A SMILE DAY." The event takes place on Saturday, February 11, 2023, from 9 a.m. – 2 p.m. at the JTCHS Corporate Office, located at 5607 NW 27th Ave. in Miami, Florida. During the event, uninsured children will receive FREE general services such as dental exams, cleanings, and sealants. 
"Our Give Kids A Smile Day provides an accessible way for parents to ensure that their children receive the early exams and interventions for a healthy smile and optimal oral health," said Dr. Deborah George, EVP/Chief Dental Officer of JTCHS. "We look forward to providing this invaluable service to the community."
The event will feature family-friendly entertainment, fun events for kids, ample photo opportunities, a live DJ, refreshments, fun games with prizes, and more.
In addition, and in celebration of the Super Bowl Weekend, two NFL football players will make a guest appearance at the Give Kids A Smile Day event. They are: 
Chatarius "Tutu" Atwell, a native of Miami, and graduate of Miami Northwest High school, who was an NFL second round draft pick and is a wide receiver from Los Angeles Rams; and
Zach Seiler, a defensive end for the Miami Dolphins.
Both players will be on-site for a limited time to sign autographs, take pictures, and share words of encouragement to the attendees.
About Jessie Trice Community Health System
The Jessie Trice Community Health System, Inc. is one of Miami-Dade County's preeminent federally qualified community health care centers, governed by a remarkably dedicated Board of Directors (51% of which are users of the medical and dental services) and a diverse, incredibly talented, committed family of providers and staff. The 1st Federally Qualified Health Center in the state and 5th in the nation, Jessie Trice Community Health System, Inc., is a Florida 501 (c) 3, not-for-profit organization that has been serving Miami-Dade County since 1967. JTCHS served its first patients from a trailer. Now, more than fifty (50) years after its founding, JTCHS owns and operates eleven (11) Comprehensive Primary Care centers, a 40 bed Women's Residential Center for substance use, and are located in two (2) universities and forty (40) school-based health suites.
JTCHS knows and specializes in comprehensive health, offering a myriad of services to improve the health of the community. This includes: dentistry, family medicine, nutrition, HIV/AIDS, behavioral health, transportation, healthy start, obstetric & gynecological care, school-based health, community health promotions, health & wellness center, pediatrics, and ancillary services. For more information on the Jessie Trice Community Health System, call 305-637-6400 or visit jtchs.org.
About the NFL Players
Chatarius "Tutu" Atwell is an American football wide receiver for the Los Angeles Rams. He played college football at Louisville, and was drafted by the Rams in the second round of the 2021 NFL Draft. Atwell, a four-year starter at Miami Northwestern High under coach Max Edwards, graduated from high school in January 2018 and enrolled at Louisville. He was the recipient of the Miami-Dade County Player of the Year award in 2017. The three-star recruit was regarded as one of the top players in Florida after guiding Northwestern to the FHSAA 6A state championship.
Zach Sieler is an American football defensive end for the Miami Dolphins. He played college football at Ferris State and was drafted by the Baltimore Ravens in the seventh round of the 2018 NFL Draft. A native of Michigan, Sieler attended Pinckney High School, where he played football and competed in wrestling and track & field. He was tabbed as the school's Athlete of the Year as a senior and also was an all-conference honoree and a team captain. In wrestling, he advanced to state wrestling championships.
#    #    #
The content and opinions expressed within this press release are those of the author(s) and/or represented companies, and are not necessarily shared by Black PR Wire. The author(s) and/or represented companies are solely responsible for the facts and the accuracy of the content of this Press release. Black PR Wire reserves the right to reject a press release if, in the view of Black PR Wire, the content of the release is unsuitable for distribution.