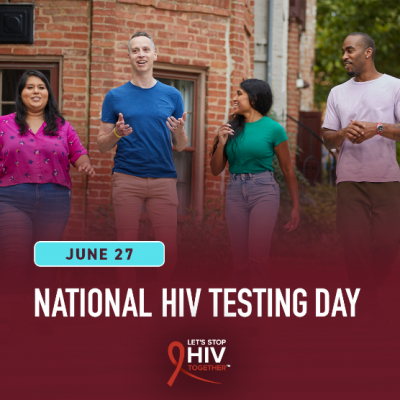 (BPRW) Jessie Trice Community Health System Observes National HIV Testing Day
(Black PR Wire) Miami, FL — June 27 is National HIV Testing Day (NHTD), an observance to emphasize and encourage HIV testing. In recognition of NHTD, Jessie Trice Community Health System (JTCHS) joins numerous health care providers and organizations who work tirelessly to make HIV testing simple, accessible and affordable.
This year's theme is "HIV Testing is Self-care." HIV testing is an act of self-care. According to the World Health Organization (WHO), self-care is the ability of individuals, families and communities to promote health, prevent disease, maintain health, and cope with illness and disability with or without the support of a health worker.
The Centers for Disease Control and Prevention recommends that everyone between the ages of 13 and 64 get tested for HIV at least once. "There is only one way to know your status, and that is through testing," said Annie R. Neasman, president and CEO of JTCHS. "Knowing your status empowers you to make informed decisions and helps to keep you and the community healthy."
HIV testing can be free, easy, fast and confidential. Take the first step toward staying healthy, take care of yourself, and include HIV testing as part of your self-care routine. For more information about JTCHS HIV/AIDS services, visit https://www.jtchs.org/. To schedule an appointment, call us at 305-637-6400.
The Jessie Trice Community Health System, Inc. is one of Miami-Dade County's preeminent federally qualified community health care centers, governed by a remarkably dedicated Board of Directors (51% of which are users of the medical and dental services) and a diverse, incredibly talented, committed family of providers and staff. The 1st Federally Qualified Health Center in the state and 5th in the nation, Jessie Trice Community Health System, Inc., is a Florida 501 (c) 3, not-for-profit organization that has been serving Miami-Dade County since 1967. JTCHS served its first patients from a trailer. Now, more than fifty (50) years after its founding, JTCHS owns and operates eleven (11) Comprehensive Primary Care centers, a 40 bed Women's Residential Center for substance use, and are located in two (2) universities and forty (40) school-based health suites.
JTCHS knows and specializes in comprehensive health, offering a myriad of services to improve the health of the community. This includes: dentistry, family medicine, nutrition, HIV/AIDS, behavioral health, transportation, healthy start, obstetric & gynecological care, school-based health, community health promotions, health & wellness center, pediatrics, and ancillary services. For more information on the Jessie Trice Community Health System, call 305-637-6400 or visit jtchs.org.
#  #  #
The content and opinions expressed within this press release are those of the author(s) and/or represented companies, and are not necessarily shared by Black PR Wire. The author(s) and/or represented companies are solely responsible for the facts and the accuracy of the content of this Press release. Black PR Wire reserves the right to reject a press release if, in the view of Black PR Wire, the content of the release is unsuitable for distribution.