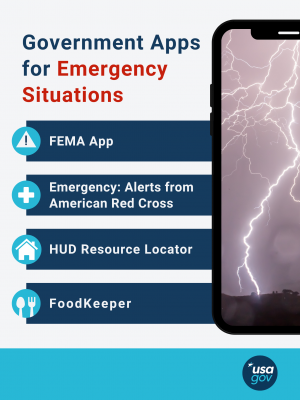 (BPRW) Four Government Apps for Times of Emergency
(Black PR Wire) These days, there are mobile applications for every situation that help make your life easier. Did you know there are apps developed for you by the U.S. government to prepare before, stay safe during and recover after an emergency? 
Explore and download these four apps so natural disasters don't catch you off guard.
Find more up-to-date information about assistance available during national disasters and other emergencies on USA.gov. Get the latest right to your inbox by subscribing to email alerts. Follow USAGov on Twitter, Facebook and Instagram.
The content and opinions expressed within this press release are those of the author(s) and/or represented companies, and are not necessarily shared by Black PR Wire. The author(s) and/or represented companies are solely responsible for the facts and the accuracy of the content of this Press release. Black PR Wire reserves the right to reject a press release if, in the view of Black PR Wire, the content of the release is unsuitable for distribution.