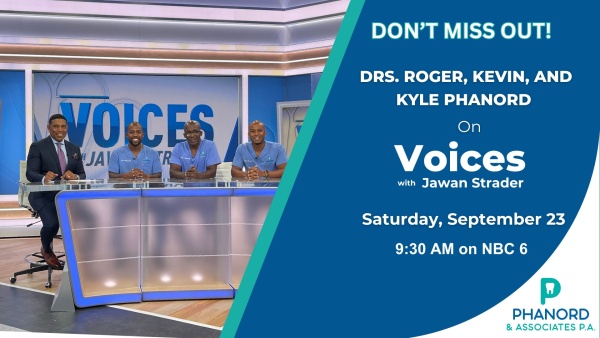 (BPRW) Drs. Roger, Kevin, and Kyle Phanord to Share Expert Insights on Oral Health on "Voices with Jawan Strader"
Interview is set to air on Saturday, September 23, at 9:30 AM on NBC 6
(Black PR Wire) MIAMI- Florida – Tune in this Saturday, September 23, at 9:30 AM on NBC 6 to catch Drs. Roger, Kevin, and Kyle Phanord from Phanord & Associates, P.A., share their expertise on oral health on the latest episode of "Voices with Jawan Strader."
In an engaging interview in recognition of Gum Care Month, the trio of dentists discussed various topics, from the importance of regular dental check-ups and proper oral care routines to debunking common oral health myths.
"We are thrilled to be able to share our knowledge and experience with viewers of 'Voices with Jawan Strader," said Dr. Roger Phanord. "We understand that many individuals are afraid of the dentist or unsure of how to care for their teeth properly. We hope that through the information shared on this platform, we can help to demystify dental care," added Dr. Kevin Phanord.
Be sure to mark your calendars for Saturday, September 23, at 9:30 AM and plan to listen to these esteemed dental experts. "We encourage everyone to tune in and learn more about the power of good dental care," said Dr. Kyle Phanord.
Dr. Roger Phanord and his twin sons, Drs. Kevin and Kyle Phanord are leading the practice of Phanord & Associates, P.A. and are "Changing Lives One Smile at a Time."
About Phanord & Associates, P.A.
Phanord & Associates, P.A. is a leading black-owned family dental practice that has been serving the community for over 30 years. The leading dental practitioner, Dr. Roger Phanord, is a University of Florida College of Dentistry doctoral graduate. In recent years, the addition of the twin sons, Drs. Kyle and Kevin Phanord, to the dental team, have brought a new level of energy and expertise to the practice. The practice welcomes patients of all backgrounds and offers a range of services, including general cosmetic dentistry and oral and maxillofacial surgery. With multilingual staff fluent in Spanish, Creole, and French, they strive to meet and exceed all dental needs. Phanord & Associates P.A. is located at 1245 NW 119th Street in North Miami, Florida. For more information, visit www.phanord.com or call 305-685-7863. To connect with Drs. Kevin and Kyle Phanord, be sure to follow them on their TikTok @DentistDuo. In addition, to stay connected with news and information about their dental practice, follow Phanord & Associates, P.A. on Facebook, X (formerly Twitter) and Instagram @Phanorddental.
#    #    #
The content and opinions expressed within this press release are those of the author(s) and/or represented companies, and are not necessarily shared by Black PR Wire. The author(s) and/or represented companies are solely responsible for the facts and the accuracy of the content of this Press release. Black PR Wire reserves the right to reject a press release if, in the view of Black PR Wire, the content of the release is unsuitable for distribution.