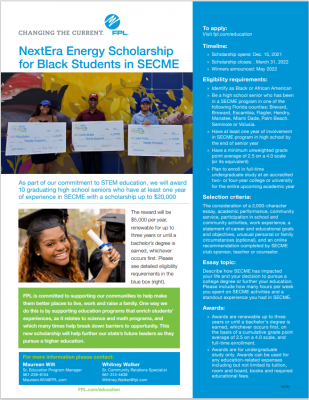 (BPRW) Deadline for The NextEra Energy Scholarship for Black Students in SECME is March 31, 2022
Apply TODAY!
(Black PR Wire) FPL is committed to supporting our communities to help make them better places to live, work and raise a family. One way we do this is by supporting education programs that enrich students' experiences, as it relates to science and math programs, and which many times help break down barriers to opportunity. This new scholarship will help further our state's future leaders as they pursue a higher education
As part of our commitment to STEM education, FPL will award 10 graduating high school seniors who have at least one year of experience in SECME with a scholarship up to $20,000. The reward will be $5,000 per year, renewable for up to three years or until a bachelor's degree is earned, whichever occurs first.
The content and opinions expressed within this press release are those of the author(s) and/or represented companies, and are not necessarily shared by Black PR Wire. The author(s) and/or represented companies are solely responsible for the facts and the accuracy of the content of this Press release. Black PR Wire reserves the right to reject a press release if, in the view of Black PR Wire, the content of the release is unsuitable for distribution.