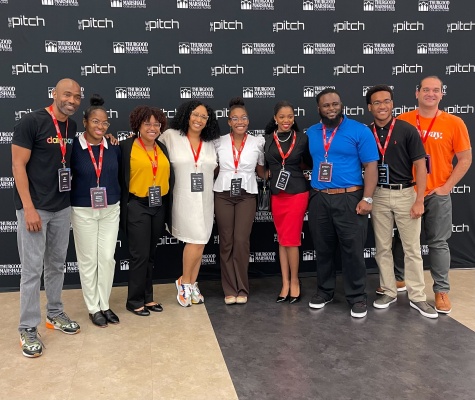 (BPRW) DailyPay Proudly Participates in the Thurgood Marshall College Fund's Innovation, Entrepreneurship, and Future of Technology Event 'The Pitch'
DailyPay Provides Coaching to 100 Young Entrepreneurs from HBCUs and Judges the Final Round
(Black PR Wire) NEW YORK, NY –  DailyPay, the industry-leading technology platform that's disrupting the financial system, was honored to partner and play a meaningful role in the Thurgood Marshall College Fund's (TMCF) 'The Pitch' event. The week-long event took place at Winston-Salem State University where 100 of the best and brightest students at America's Historical Black Colleges and Universities (HBCUs) and predominantly Black Institutions (PBIs) were tasked with developing solutions to business, social or educational problems and pitch their ideas on the final day to a panel of expert judges including entrepreneurs, small business owners, executives, venture capitalists, and other investors.
"Thanks to sponsors like DailyPay, our students were able to benefit from the insight and investment of technology professionals who are fully committed to the next generation of tech talent. Making more than a financial commitment, the team from DailyPay spent the time to personally connect with students and directly impacted their learning and development," said Thurgood Marshall College Fund Chief Development Officer, George Spencer. "On behalf of TMCF's Innovation and Entrepreneurship (I&E) Division, I thank every member of the DailyPay team and look forward to continuing to partner as we create engaging educational opportunities for our students."
Gabrielle Tavasti, DailyPay's Senior Manager of Brand Strategy, and Ed Addison, Account Executive with DailyPay, coached the student teams on strategic tactics including how to execute a pitch and market their innovative products. DailyPay Corporate Development Executive Jelani Harris was a notable student speaker delivering an inspirational speech about his career journey and "failing forward."
In the closing ceremony, DailyPay Vice President of Product Dar Miranda was among the honorary judges in the final closing round to crown 'The Pitch' winner. The seven students of the winning team "Phoenix," presented via mytaverse and developed an innovative solution to handle data privacy.
"It was an absolute honor to be among such innovative young entrepreneurs and judge the final round of The Pitch," said Miranda. "These students only had one week to familiarize themselves with each other and develop a product from the ground up in just a matter of days – this is incredibly impressive and inspiring." 
 ###
 About Thurgood Marshall College Fund Innovation and Entrepreneurship Division
Established in 1987, the Thurgood Marshall College Fund (TMCF) is the nation's largest organization exclusively representing the Black College Community. TMCF member-schools include the publicly-supported Historically Black Colleges and Universities and Predominantly Black Institutions, enrolling nearly 80% of all students attending black colleges and universities. Through scholarships, capacity building and research initiatives, innovative programs, and strategic partnerships, TMCF is a vital resource in the PK-12 and higher education space. The organization is also the source of top employers seeking top talent for competitive internships and good jobs. TMCF is a 501(c)(3) tax-exempt, charitable organization. For more information about TMCF, visit: www.tmcf.org.
About DailyPay
DailyPay, Inc., powered by its industry-leading technology platform, is on a mission to build a new financial system. Partnering with some of America's best-in-class employers, including Dollar Tree, and Adecco, DailyPay is the recognized gold standard in on-demand pay. Through its massive data network, proprietary funding model and connections into over 6,000 endpoints in the banking system, DailyPay works to ensure that money is always in the right place at the right time for employers, merchants and financial institutions. DailyPay is building technology and the mindset to reimagine the way money moves, from the moment work starts. DailyPay is headquartered in New York City, with operations based in Minneapolis. For more information, visit www.dailypay.com/press
The content and opinions expressed within this press release are those of the author(s) and/or represented companies, and are not necessarily shared by Black PR Wire. The author(s) and/or represented companies are solely responsible for the facts and the accuracy of the content of this Press release. Black PR Wire reserves the right to reject a press release if, in the view of Black PR Wire, the content of the release is unsuitable for distribution.