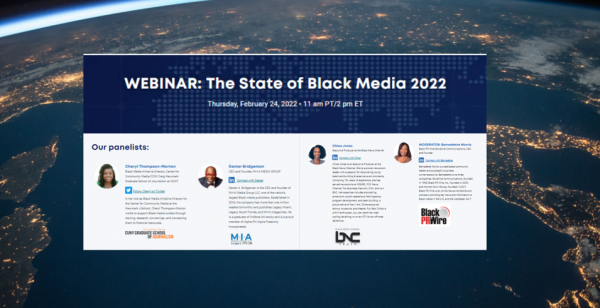 (BPRW) Business Wire and Black PR Wire present: The State of Black Media 2022
Free event on 2/24 – Register online at https://bwnews.pr/StateofBlackMediaWebinar
(Black PR Wire) Miami, FL – When it comes to reaching and activating Black audiences, Black-owned publications take the lead. Blending breaking news, personal impact stories, and historical context, Black audience-focused media outlets publish up to six times more coverage than mainstream media on major issues such as racism, healthcare, and public policy. *
On February 24, 2022 at 11:00 AM (PT)/2:00 PM (ET), Business Wire and Black PR Wire will bring together media leaders to review the state of Black media.
This expert panel will discuss:
Changes in publishing and news consumption
Common and popular content topics
Best practices to build relationships with Black media
Turning Black History Month PR outreach into a year-long program
Panelists for this dynamic event include:
Cheryl Thompson-Morton
Black Media Initiative Director, Center for Community Media/CCM Craig Newmark Graduate School of Journalism at CUNY
In her role as Black Media Initiative Director for the Center for Community Media at the Newmark J-School, Cheryl Thompson-Morton works to support Black media outlets through training, research, convenings, and connecting them to financial resources.
Chloe Jones
Executive Producer at the Black News Channel
Chloe Jones is an Executive Producer at the Black News Channel. She is a proven newsroom leader with a passion for discovering young talent and building diverse news environments. Compiling 15+ years of experience, she has served newsrooms at MSNBC, FOX News Channel, Fox Business Network, CNN, and now BNC. Her expertise includes storytelling, production, studio operations, field logistics, program development, and team building. A proud native of New York, Chloe enjoys art shows, museums, and theatre. Fun fact: Chloe is a thrill enthusiast…you can catch her road cycling, jet-skiing, or on an ATV for an off-road adventure.
Dexter Bridgeman
CEO and Founder, M•I•A MEDIA GROUP
Dexter A. Bridgeman is the CEO and founder of M•I•A Media Group LLC, one of the nation's largest Black media publishers. Established in 2004, his company has more than one million readers bimonthly and publishes Legacy Miami, Legacy South Florida, and M•I•A magazines. He is a graduate of Hofstra University and is a proud member of Alpha Phi Alpha Fraternity Incorporated.
The session will be moderated by Bernadette Morris
CEO and Founder, Black PR Wire/Sonshine Communications
Bernadette Morris is a dedicated community leader and successful business owner/executive. Bernadette owns three companies: Sonshine Communications, founded in 1993; Black PR Wire, Inc., founded in 2000; and Women Grow Strong, founded in 2007. Black PR Wire is an online newswire distribution company providing key news and information to Black media in the U.S. and the Caribbean 24/7.
Business Wire, a Berkshire Hathaway company, is the global leader in press release distribution and regulatory disclosure. Investor relations, public relations, public policy and marketing professionals rely on Business Wire for secure and accurate distribution of market-moving news and multimedia.  Founded in 1961, Business Wire is a trusted source for news organizations, journalists, investment professionals and regulatory authorities, delivering news directly into editorial systems and leading online news sources via its multi-patented NX Network. Business Wire has 18 newsrooms worldwide to meet the needs of communications professionals and news media.
Black PR Wire delivers its clients' press releases, video and audio news releases, and newsletters to key reporters, writers, and influential grassroots, social and civic community leaders throughout the country. Black PR Wire also provides specialized services including direct media calls and product placement pitching as well as audio, video and e-newsletter development and distribution. The company's service center has compiled and owns a comprehensive and continuously updated database of Black media and organizations throughout the country and the Caribbean, and has direct contacts with hundreds of Black and minority media outlets, community, social and civic groups and affiliates nationwide. The company's database holds a comprehensive listing of over 1,200 Black-owned publications and media and includes a comprehensive listing of key Black journalists throughout the United States and the Caribbean.
Black PR Wire delivers to the very core and pulse of the Black community. It is dedicated to providing service that is second to none with its state-of-the-art wire transmission process and technology, its experienced media planners, and its commitment to quality, substance and style that guides every component of its client service philosophy.
The Webinar is free and open to the public. For more information on Black PR Wire and to register for "The State of the Black Media," Webinar, visit https://bwnews.pr/StateofBlackMediaWebinar or call 877-BLACKPR.
*Why Black Media Matters Now, Craig Newmark Graduate School of Journalism at the City University of New York
#    #    #
The content and opinions expressed within this press release are those of the author(s) and/or represented companies, and are not necessarily shared by Black PR Wire. The author(s) and/or represented companies are solely responsible for the facts and the accuracy of the content of this Press release. Black PR Wire reserves the right to reject a press release if, in the view of Black PR Wire, the content of the release is unsuitable for distribution.