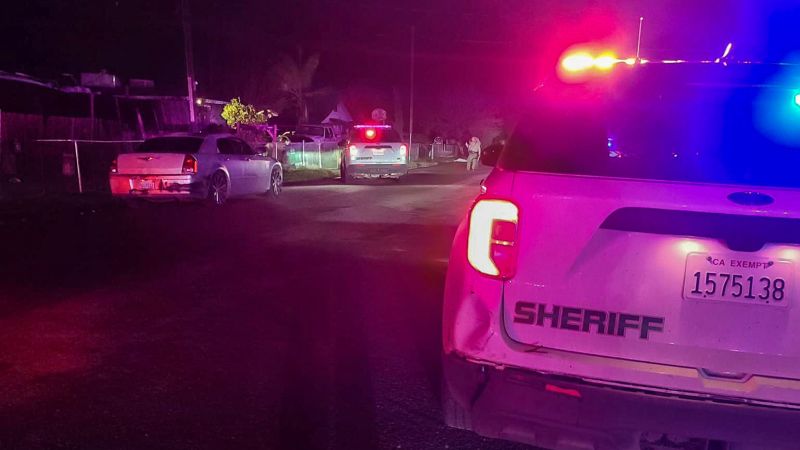 CNN
 — 

At least six people, including a mother and her 6-month-old baby, are dead after an "early morning massacre" Monday that authorities in Goshen, California, said may be related to cartel activity.
Deputies who responded to reports of gunfire after 3:30 a.m. Monday found six victims, including two who were in the street and one who was in the doorway of the home where the gunfire erupted, Sheriff Mike Boudreaux told reporters at the scene.
The mother, who was 17, and the child were both shot in the head, he said. Among the other victims was at least one man who was taken to the hospital but later pronounced dead.
The person who reported the shooting "thought an active shooter was in the area because of the amount of shots being heard," Tulare County Sheriff's Office said in a new release.
"We do have family that has been escorted from the scene, we do have survivors," Boudreaux said, saying investigators had yet to determine how they survived what he said was a "horrific massacre."
The attack does not appear to be a random act of violence but may be linked to gang activity, the sheriff's office said, noting it comes a week after deputies executed a narcotics search warrant at the home.
While rival street gangs frequently engage in acts of violence in the area, the belief among investigators is that Monday's massacre bore characteristics associated with a drug cartel, with a heightened level of brutality and sophistication.
While investigators cannot confirm the shooters were from a cartel, the sheriff thinks it appears to be a "cartel-style execution," Tulare County sheriff's spokesperson Ashley Schwarm told CNN on Monday.
Drug cartels have notoriously engaged in deadly violence, including the deployment of hit squads against perceived enemies and members of law enforcement that threaten their drug trafficking efforts.
Detectives are looking for at least two suspects, the sheriff's office said.